This week, my plan entailed continuation of filming for the hip hop documentary with Hayden and Adam which we did on Saturday and Sunday at Adam's apartment. I've been playing around with an old Black's tripod i acquired through family for the filming of the hip hop documentary and some biking stuff on the side and I'm really happy with how it's turned out, it's very smooth and has full 180 degree free rotation (up and down, side to side, adjustable at all angles) on fully rotational ball bearing pivot.
I began working on a storyboard for the editing and filming for the documentary, which Tobias and Jeff suggested was the best way to organize the short video in order to streamline the filming and editing process. It's coming together slowly, I will have photo's of it in the next posting as they will not be completed until later this week.
I realized my original business card that I made in Photoshop wasn't going to work if I wanted to print it properly. Tobias suggested I liven it up with the photo I used on my website in order to match up the identity a little better and I am definitely happy I did that. I redid the business card in Adobe Illustrator, see below. Tobias will be having an instructional period in class to teach us about some business card fundamentals so it will likely be drafted a few times before printing, but now it will be able to properly print in high resolution at Staples. I will be putting the order through once the domain is purchased which is on the agenda for next week.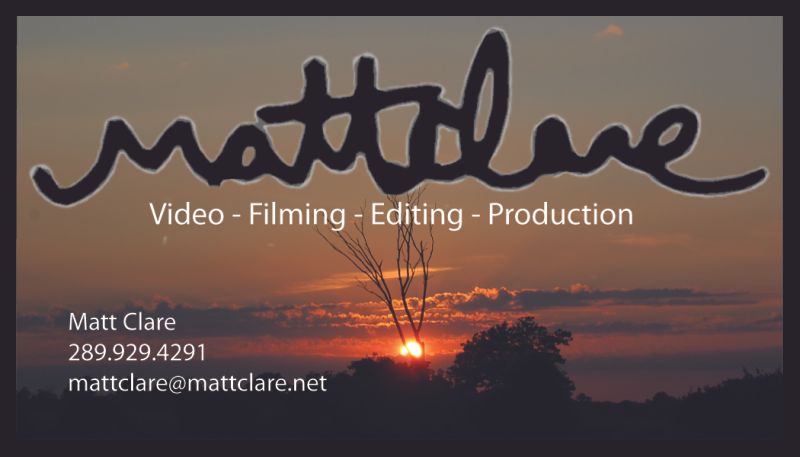 That's about all for this week, on a side note I put an order through on a
GoPro HD Helmet Hero
, it's a crazy mountable mini camera that shoots in all resolutions of HD up to 1080! I bought this with intentions to use for biking videos. Really excited to get it and start playing with it. I'll embed a sample video below so you can get an idea just what I'm talking about. The quality is exceptional and it shoots straight on to SD cards in HD. See for yourself:
WATCH IN 1080HD!
That's all for this week!