After a long week of making decisions, I've finally come up with some pretty awesome stuff (in my opinion) for my website, business card, and corporate package. The business card was touched up a bit after some pointers from last weeks lesson about
The Golden Ratio
, the only major changes were some spacing with the images and text and changing the font's so they all match. It's ready to be printed which I've already estimated costing me about $29.99 from the
Staples Print Center
which I plan to do in early November. I don't want to have the card printed until the web domain has been attained and I have an official email for the card. The final business card looks as so: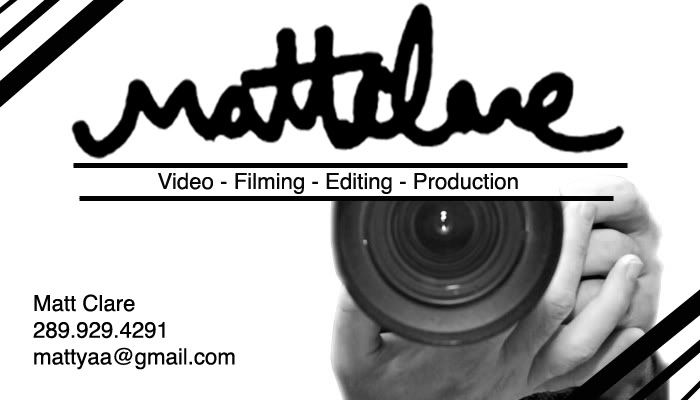 The next completed task of the week was finalizing the portfolio web page layout and adding most of my material to it in a manor I liked. I've scoped out mattclare.net as a potential web domain so long as it's still available when I purchase it first week of November. The domain also comes with an email account which I will have as 'mattclare@mattclare.net. Below are screen shot samples of the four pages the website contains right now, hope you all like it as much as I do because I'm really happy with the simplicity and the effectiveness of the layout. There is a lot of hyperlinking with icons and photo's as well as video so the site in itself allows for pages and pages of information about myself to be recovered if the viewer so chooses to explore. Once the website is live I will immediately post a link to it here!!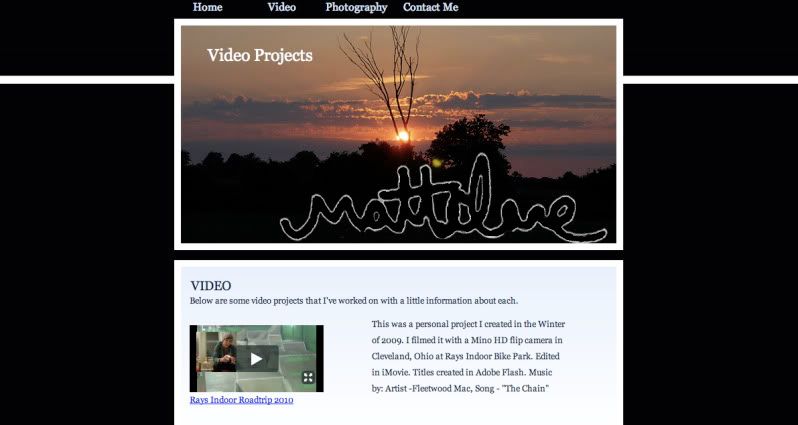 The biggest dilemma I had this week was deciding whether or not I will be doing one or another video project after the hip hop documentary. Unfortunately, the filming process has not followed schedule because of some set backs, but filming is still occurring.
I've decided to only do one video, which will be the hip hop documentary.
I've made changes to the portfolio plan and the Excel chart accordingly. I've decided to extend filming into November and have the editing process happen in the last few weeks, so the video can be released for the first week of December. I would have liked to complete two different styles of video projects for my portfolio but I plan on extending the plan past the actual class time and pursuing a new video project after the hip hop documentary in December, which will be part of my final presentation.
That's about all for this week, really excited to get everything live and printed, but due to some financial strain I've had to extend some of the dates into November.