For the third week in the portfolio plan, the main focus was to design a business card in order to organize a 'corporate package' being a business card, portfolio, and cover letter. This will be used in future weeks of the plan to fashion an application to somewhere that I might be interested in applying at in the future, even if I do not use it right away. Since I based the logo on my signature I decided to keep the business card simple and black and white in order to simplify it and fit the logo appropriately. Below is a sample of the business card so far, there may be some changes before printing next week.
Sample of the business card I plan to print.
The next focus of week 3 was to update my resume, which I did according to my most recent jobs and information. Not much has changed other than my most recent job and my objective, which takes focus more on attaining a full time job in a field that will challenge my video/photo skill, and help me gain industry knowledge. Below is a link to download the Microsoft Word .doc of my resume:
Matt's Resume Download
CLICK HERE!
The last focus of this week was to continue filming for the hip hop documentary which has slowly come together. Filming will continue on into next week and then editing will begin so the documentary can be finished by October. If I have the time, a teaser for the video will be released before it is fully finished.
The plan for making my portfolio website will be looked into more after the website is functional and ready to upload. I plan to use Go Daddy! in order to establish a web domain suitable for my portfolio website. Something like 'www.mattclare.com' or 'mclareportfolio.com' etc. The website itself looks a little different this week as some tweaking has been made on the homepage and video page. See original layout sketch and initial design screenshots below: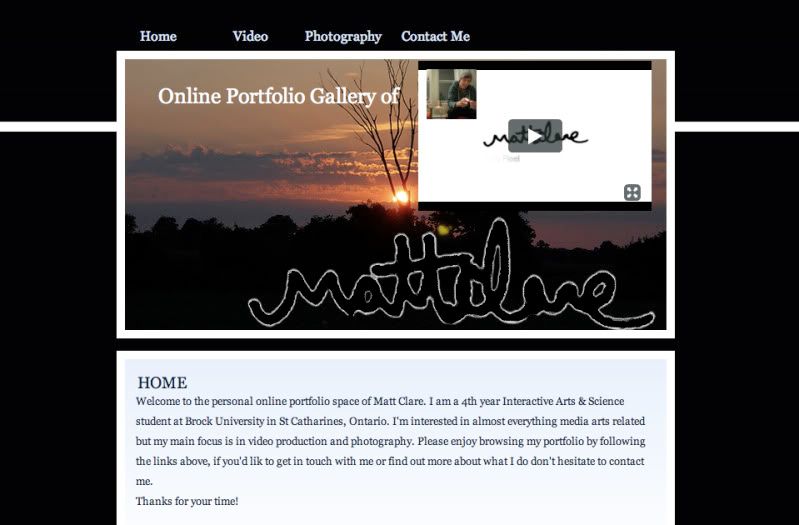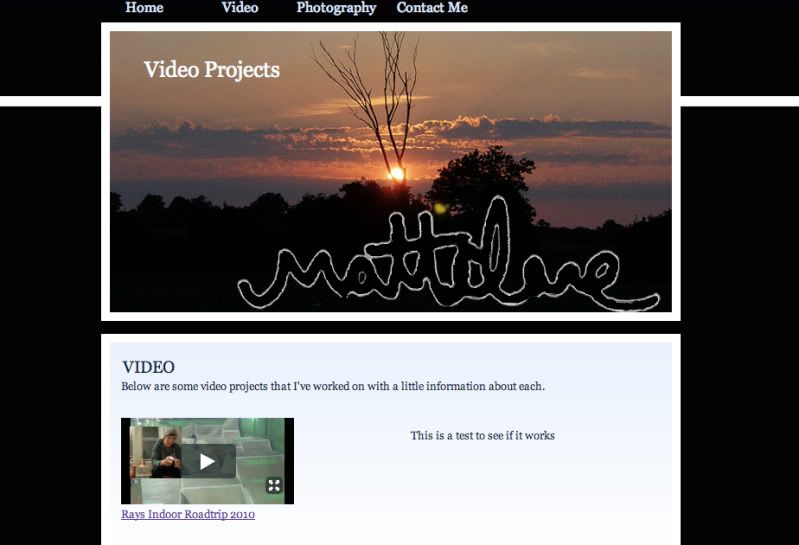 That's all for this week!